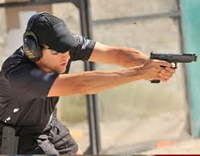 Students should have solid intermediate to advanced gun-handling skills prior to attending this course. Proof of shooting experience can be one of the following: AGA Intro to Pistol Shooting, NRA Basic Pistol Course Certificate, NRA FIRST Steps Course Certificate, NRA pistol competitive shooting qualification card, military DD 214 with pistol qualification, or passing the Pre-Course Assessment.

This course focuses on development of aggressive gun-handling skills, dim and low light shooting scenarios, complex shooting positions, inhibited reloading and strategic pistol deployment. The concepts of firearm comfort, threat assessment, and monitoring all visual areas will be emphasized throughout the class.

Students will develop reflexive gun-handling skills that will enable them to quickly and efficiently engage threats while performing multiple complex tasks.

We believe it is critical that pistol skills stay sharp. This course provides the advanced training needed to keep the armed private citizen ready to handle the most complex threats under multiple conditions.

This is an 6-hour course. Students should expect to shoot approximately 150 rounds of ammunition.